*** Please note this site handles Australian orders only. ***
Read more about correct halter fit here, and view all CAMELIDynamics products for purchase here.
Marty McGee Bennett has developed a proven and effective method to handle and train alpacas and llamas. This training system is called CAMELIDynamics.
Learn the CAMELIDynamics training system, and you will learn how to behave in a way that makes your alpacas feel safe in your presence. An alpaca that feels safe is content to stand calmly as you work with her.
We want our alpacas to feel safe in our presence. We want our alpacas to interact with us humans calmly and confidently. From this safe place, your animals will learn to trust you.
When an alpaca is frightened, the instinctive response is Flight, Fight, or Freeze. How does an alpaca react when you try to corner her with your arms outstretched? How does your stud male alpaca respond when you grab him around the neck for haltering? Chances are good they use one of these instinctive responses. Cornering, grabbing and holding are frequently used methods, but there is a markedly different way to work with your alpacas.
Alpacas feel compelled to use the fight or flight response when they feel they are in danger. Learn which of your behaviours they find dangerous and threatening. Then, learn simple alternatives to these behaviours and you are on your way to restraint-free handling. No more grabbing, no more wrestling, no more cushing, no more spitting, no more chasing.
Read Marty's The Camelid Companion to learn how this system can work for you.
Along with this system of understanding alpaca behaviour, Marty and her Zephyr Farm partner Perry McGee developed the line of equipment specifically designed for safe and effective handling of alpacas and llamas.
Shortly after Marty began teaching her handling and training techniques, she discovered that much of the gear available was not well designed, did not fit and was often counterproductive to the training and handling effort.
It is terribly hard to pay attention when your shoes are too small and uncomfortable. Marty knew that with gear designed to fit and to communicate with her camelids, the results were bound to improve. So she started sketching and Perry started stitching. The Zephyr Farm product line was born.
Every Zephyr Farm catch rope and lead rope is hand made by Perry McGee with each rope individually hand spliced and lock stitched. This attention to detail and quality ensures that your Zephyr Farm gear will have a very long and useful life.
Zephyr Farm halters fit as no other halter does. They are correctly proportioned to allow the noseband to sit high up on the nose bone, allowing your alpaca feel safe and comfortable. In my opinion, this is the best halter I have ever used, and it is also the most adjustable. Do your four legged friends a favour and try a Zephyr Farm halter. They will thank you for it!!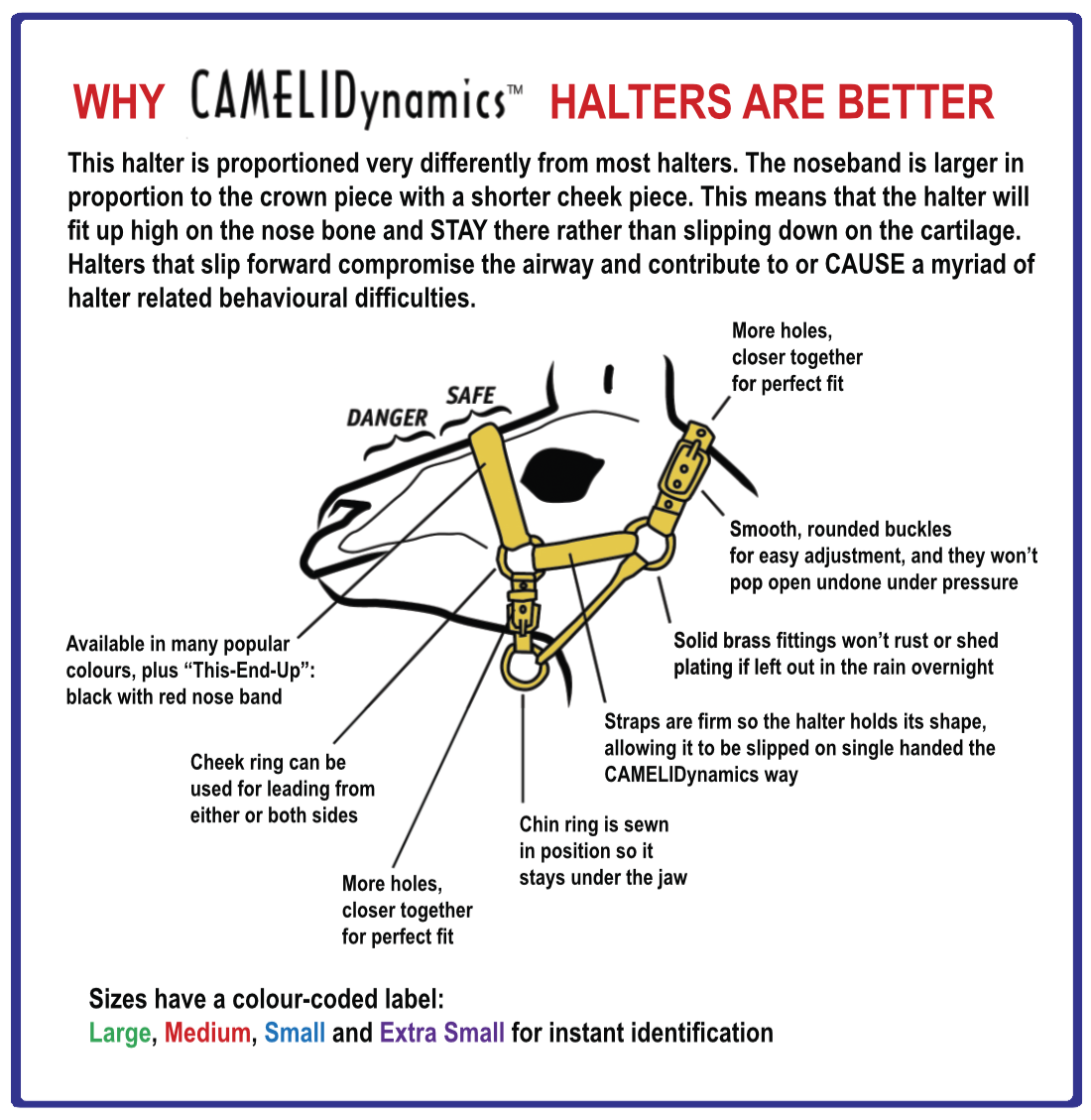 Read more about correct halter fit here, and view all CAMELIDynamics products for purchase here.