Alpaca Halters - Limited Sizes Pink
Brand:
CAMELIDynamics
Product Code:
alpaca halter pink
Availability:
In Stock
Limited Sizes Available.
Colour:
Pink
Sizes:
XS fits from 3-6 months or smaller, more delicate heads
S fits most weanlings up to 8-10 months
M fits large weanlings, yearlings, most adults
Each halter has a colour-coded label for quick identification:
purple for XS
blue for S
red for M
Buying a halter that fits properly is possibly the most important thing you can do for the safety and comfort of your alpaca. Halter fit profoundly affects your alpaca's attitude and performance. For safe halter fit, the nose band must rest on bone and stay there even under adverse conditions, i.e. when your alpaca bucks on the lead, resists being tied, bolts or becomes tangled in a stake line. A halter should be comfortable and should not interfere with your alpaca's ability to yawn, eat or ruminate. A halter should also serve as an effective tool of communication particularly if your animal is in training.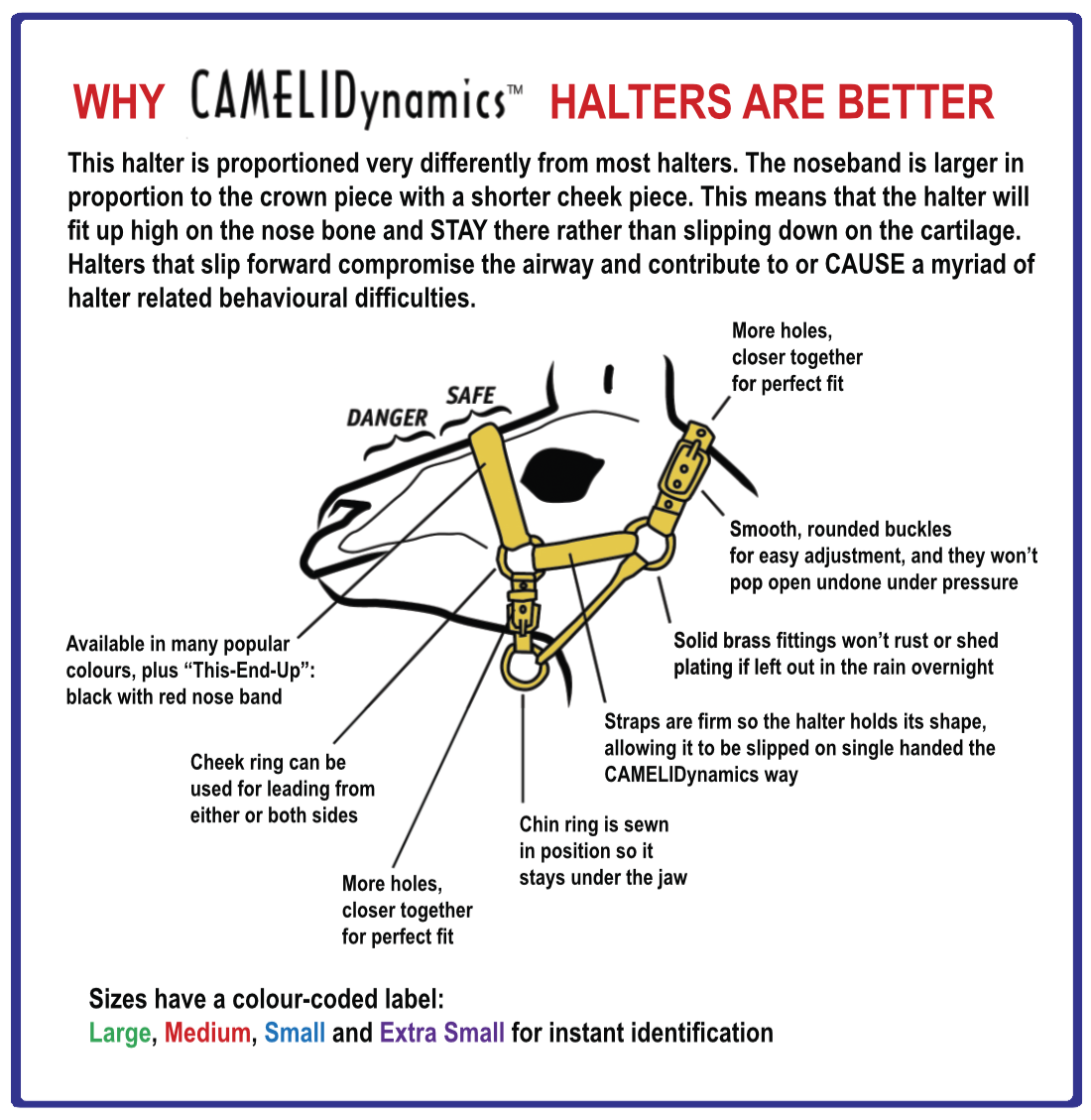 Why CAMELIDynamics halters are better (click to enlarge)
Unique Features:
More holes in the strap, and closer together for a perfect fit
Smooth, rounded buckles for easy adjustment and which won't pop undone under pressure
Solid brass fittings that won't rust or shed plating
Firm straps so the halter holds its shape
Chin ring is sewn in position so it stays under the jaw
Cheek ring can be used for leading from either or both sides
The
Zephyr
halter has the maximum amount of adjustability in both the nose band and the crown piece. It is proportioned so that it will stay well up on the nose bone for your animal's safety when properly fitted. The
Zephyr
halter is also designed with side rings on the nose band that can be used for leading. Signals given in this location can often prevent negative leading behaviors from developing or fix habitual resistance when it exists. Get one of each size and you can properly fit every animal on your property.
Halter fit is covered extensively in Marty McGee's book,
The Camelid Companion
(ch 8).